Innovative early fire detection for protecting recycling centres, landfill sites, warehouses, and more
The LivEye FIREGUARD is an innovative monitoring system for early fire detection. While conventional fire detection systems rely on smoke and very high temperatures, the LivEye FIREGUARD relies on the detection of temperature fluctuations and the exceeding of threshold values (-20°C to 150°C definable). In this way, fire potentials can be detected at an early stage, even before the actual fire occurs. Individual threshold values can be adjusted to the area to be detected and make it possible to generate pre-alarms even before the flame develops. Due to the early alarm, there is enough time to interact with conventional measures and avert the danger of a fire. In the event of a fire, LivEye FIREGUARD systems help to localize heat sources and thus optimally coordinate firefighting efforts.
Advantages of the LivEye FIREGUARD
Targeted monitoring with up to 4 high-performance PTZ thermal cameras with a temperature range of -20°C to 150°C (definable)
Intelligent LivEye® analysis software (KI) for early fire detection
Mast height 6-9 m
Monitoring radius of several kilometres (depending on the model)
Small footprint of just 1 x 1 m to 1.5 x 1.5 m, depending on the model
Can be mounted on existing masts or walls if necessary
Location can be easily changed
Battery storage or power generator continues to supply power for up to 3 months in the event of a power outage (depending on the model)
Optional customer access
Fire protection through monitoring of temperature developments
Fires regularly occur in processing plants, especially when processing waste or similar highly flammable materials. The LivEye FIREGUARD monitors both indoor and outdoor areas of a plant for dangerous temperature developments and sets off an alarm at an early stage.
---
DIESE(R) ARTIKEL KÖNNTEN SIE INTERESSIEREN: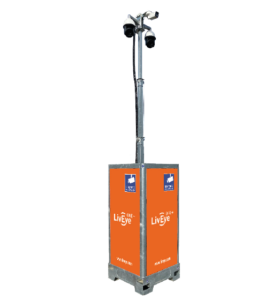 LivEye ONE+
Price on request
LivEye ONE+ sind unsere bewährten Überwachungssysteme. Für eine effiziente Überwachung von oben bietet es modernste Überwachungstechnik auf kleinstem Raum, mit einer Masthöhe von bis zu sechs Metern und einem schmalen Standbereich von 1 x 1 Meter. Einzig und alleine eine dauerhafte 230 Volt Stromversorgung ist notwendig, um die intelligente Überwachung durch die LivEye Analyse-Software zu…
to the product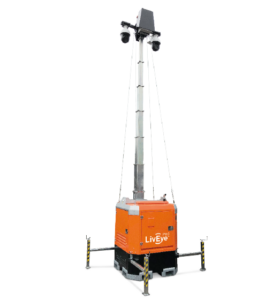 LivEye PRO 2.0 Autark
Price on request
Das autarke Videoüberwachungssystem zum Schutz von entlegenen Gebäuden und Arealen, Solarparks, Rohstofflagern etc. Zwei hochfunktionelle PTZ-Kameras erfassen zielgerichtet alle Vorkommnisse in einem Überwachungsradius von bis zu 200 m. Aufeinander abgestimmte Energieversorgungssysteme ermöglichen es, das Gerät bis zu 3 Monate komplett autark zu betreiben. Diese lange Betriebsdauer ist möglich dank eines leistungsstarken Akkus, der eine Arbeitsdauer…
to the product
LivEye PRO SOLAR
Price on request
Autarke und nachhaltige Videoüberwachung zum Schutz von abgelegenen Anlagen, Baustellen und Freigelände Die Kombination von drei hochfunktionellen Solarpanels und einer umweltfreundlichen Brennstoffzelle ermöglicht eine zeitlich unbegrenzte, autarke Videoüberwachung. Die intelligente LivEye Analyse Software erfasst zuverlässig das Eindringen von Menschen oder Fahrzeugen in den Detektionsbereich und übermittelt einen Alarm in unsere LivEye Leitstelle. Je nach Alarmregelung…
to the product
Exemplary fields of application